There are several reasons you may have kids in your worship service:
You are a small church that doesn't have the resources to provide a separate Kids' Ministry
You are doing a special service that includes kids in the service for the day
It is part of your philosophy of ministry to include kids in the service with their parents
Whatever the reason, there are times when we have kids in our services.  This is a healthy thing, whether it is occasional or ongoing, but when they are included in attendance, we should strive to make them included in the service itself.
It's easy to just give them headphones and an iPad, but it would be better to have them actively participating in some way.  I remember one Sunday when a little girl who was joining us for the Worship Service said to me, "I don't mind being in here with you, but I don't understand what you're talking about!"
That was a good reminder to keep my communication and preaching clear for everyone in the room, regardless of age.  No small task, though, right?
That conversation inspired us to create a simple "Kids' Worship Guide" for when school age kids are with us in the service. It's very "general," and is applicable for any service.  We provide them with crayons, and encourage them to actively engage in the service with us and the adults who brought them to church, today.
Feel free to download the FREE PDF here and use it whenever you need. (No opt in, necessary. Just click the link and download!)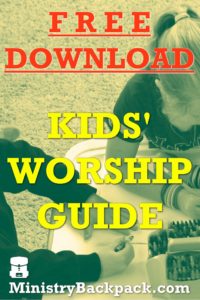 You can also use it as an inspiration and simply create your own.  To create ours, we used free clip art and created the word search puzzle for free, here: "Discovery Education Free Puzzle Maker"
If this is useful, and you'd like to see more of these kinds of downloads on the site, please let me know in the comments below. Feel free to share the link, and thanks for stopping by!