God called you to start a church, but there's a problem. You don't have any money, yet. Spiritualize it all you want, but at the end of the day, you still have to eat and have a place to sleep.
So here are 5 Strategies for starting your church with "no money down."  I may add 5 more later because I have a few pages of thoughts about it, but for now, here are the first five. We'll start in  no particular order of priority (except for number one):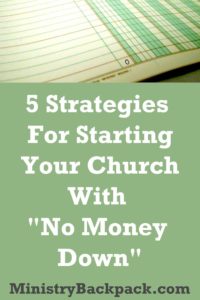 1. Put some money down. Ha! I got you there. You can't start a church with no money down, silly. You need to have a little "skin in the game." If you want others to give to your church plant, it has to start with you. What are you willing to invest? Do you have savings? Do you have something you could sell? Time to put some of your security on the line and into God's hands.
2. Be bi-vocational. Do this for a year or two at least. I know that you want to spend all of your time invested in the start of your new church, but don't think that you're not doing that if you're bi-vocational. You'll meet people you can share Christ with and invite to be a part of your new church. You can also see what it's like during the week for most of the people you'll be leading. You'll free up any money you initially raise so that it can be used for ministry and equipment.  As a bonus, you'll be able to pay a few of your bills and relieve some stress.
3. Require all team members to give from day one. The moment someone comes on board your launch team, request that they make the shift of channeling all of their giving through your church plant.  They should share this with their current pastor immediately, if necessary, but they don't need to wait until things get going for them to begin giving.
4. Start a non-profit business that supports your new church. I know of a church planter in Georgia who started a "second hand" store where all of the income generated went directly to support the new church. Another church planter in Colorado created multiple businesses, including a coffee shop, an "odd jobs" service and more that did the same thing. You need to be careful in how you set that up and of course, you need to keep stellar records, but I love this kind of thinking for funding ministry.
5. Know the minimum you need and promote the dream amount you hope for. Don't inflate the numbers, but map out your needs based on "the bare bones," "the next level of impact," and "the best impact" you can make on your community. Filter this through every area of your startup – marketing to the community, equipment, events, rental space, etc. Make a list of the things you absolutely must purchase or have donated, the things you could borrow or rent, and the things you could make or create.
These are just suggestions. As you are faithful and a good steward of what God entrusts to you, He will bless as you are faithful to his calling.
————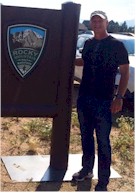 Johnny Leckie is a Christ Follower, Husband to Leona, and Father to Matthew, Melissa & Michael. He is also a Church Planting Pastor, Musician, Artist, & Blogger. He's a big fan of Coffee & Bacon and is currently planting a Church in Aurora, Colorado called Compass Church.  He is the founder of MinistryBackpack.com.