Podcast: Play in new window | Download
Subscribe: Apple Podcasts | Android | RSS
Show Notes: Seven Questions With Adam Young
In this episode, I continue my "7 Questions" interview with Pastor Adam Young. Adam is the founding and lead pastor of Element Church in Aurora, Colorado. Adam is married to Alaina, and they have three amazing kids. He has preached from the East Coast to the West Coast of the United States, a number of countries, and on three different continents. Adam has served in churches as the Youth Pastor, College Pastor, Children's Pastor, and Associate Pastor in Oklahoma and Colorado. Adam is also an adjunct professor at Colorado Christian University. (http://www.ccu.edu/) In his free time, Adam enjoys fishing, hunting, reading, and drinking coffee…
Element Church
http://www.yourelement.org/
Some Highlights and Links From Today's Show:
On Keeping Family Relationships Strong:
Following the example of his father, he is really involved with his kids' and their sports, by coaching. He does this even though he doesn't know a lot about all of the sports.
He and his wife are intentional about fully involving his children in their church planting experience. They help with setup and other things on Sunday mornings.
He takes his kids with him on hospital visits and some other ministry meetings, then takes them out for ice-cream afterward.
Adam's Basic Schedule:
As a "bi-vocational" church planter, Adam "offices" out of his home and his schedule is constantly changing. He teaches at Colorado Christian University, works and coaches in the local school system and is currently working on an additional degree.
Screenshot of Adam's Weekly "Color Coded" Schedule as promised: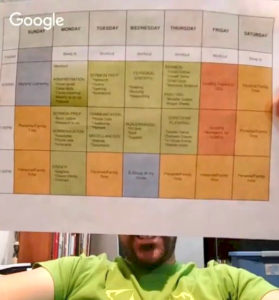 Family time is blocked out and Adam keeps his schedule color coded.
Here's a "rough cut" look:
Mondays – Nothing relational, if possible. Emails, repsonses to visitors, etc. and Sermon prep begins.
Wednesday Mornings – Sermon preparation.
Thursday Afternoons – Long-range planning.
Friday Mornings – Often spent grading papers during a season of teaching at CCU.
Friday Afternoons – Personal growth.
Join the conversation on this topic by commenting or leaving questions below. If you have a question that you'd like to have heard on the podcast, record your question, and upload it to Google Drive, Dropbox, Box or some other cloud based site and send the link to Hello@MinistryBackpack.com
Music Provided by "Artist Unknown" – https://artistunknown.bandcamp.com/