Podcast: Play in new window | Download
Subscribe: Apple Podcasts | Android | RSS
Show Notes: Seven Questions With Bill Leckie
Summary: In this episode, I interview my brother, Pastor Bill Leckie, with "Seven Questions." Bill is a Pastor, author, blogger and speaker who lives in the Dallas-Fort Worth Metroplex. He has over 30 years of ministry experience in churches large and small.  I've known him pretty much since I was born, and I can honestly say that he's the real deal.
Bill Leckie
http://www.BillLeckie.com/
Gateway Church
http://gatewaypeople.com/
* In the time since this interview was recorded, Bill has moved once again into full time speaking, writing and ministry through Bill Leckie Ministries. He is "Thriving in Transition."
Some Highlights and Links From Today's Show:
"I will never say to anyone (about questions related to ministry), 'You'll learn.' If there's anything that I know or that I've learned, even through my stupid mistakes – if someone else can vicariously learn from that – well, I will offer that gladly to anyone."
It's important to spend time with other pastors, and offer genuine encouragement – not "pat" or "bumper sticker" answers.
About "Pat" or "Bumper sticker" Answers:
"I hate 'bumper stickers.' If I'm reading one, it's because I'm stuck in traffic, so I'm not going to be in a good mood. You try to get them off of your car and they leave a mess. We have a lot of things like that in Church life, where we give "pat" answers to people. We stick a Band-aid like a 'bumper sticker' on a gaping wound and say, 'There. Go and be with God.' It's unfortunate. When people are hurting, those kinds of answers are infuriating."
What he would do differently if starting over:
"I would not find my sense of worth or validation or identity in being a Pastor."
"It's very easy for us to define ourselves as a person by that title, and I think that that's very unhealthy. I think it produces an unintended byproduct, and that is that we are 'pretenders.' We actually (become) performers."
"Performance-based acceptance is really a reflection of an unhealthy view of God as our Father."
"Maybe we go through a season where we don't have a Pastoral position, or we don't have a job – now our identity is in question."
"Before we are pastors, we are believers; we are Christian. We have a personal, intimate relationship with God through Jesus Christ. So that's where we find our worth."
"We all come with baggage that our families helped us pack – and that includes our Church families. Here's the reality, though – someone else may have loaded that into my backpack, but it's in my backpack, now and it's now my responsibility to do something with it."
"The other thing that I would do differently is that I would be much more careful with my schedule, so that I would not, in the name of ministry, miss time with my family. I would make my family more of a priority – they were a priority, but my schedule didn't reflect it."
A Short List of Things That Bill Would Share "From An Older Minister To A Younger Minister

":

1. Make your family more important than ministry.

2. Don't allow ministry to define or limit your dreams.

3. Forgive quickly and don't become cynical.

4. Keep a childlike awe and wonder about life and God's goodness.

5. Believe completely in His purpose and plan for your life and the lives of your family.

6. Laugh daily and don't be ashamed to cry when life hurts.

7. Heal, learn, and never stop growing as a person.

8. Make every life decision by the word of the Lord, knowing that you've heard God's direction and it's confirmed in your heart.

Resources Bill Is Currently Using:

Logos Bible Software:
https://www.logos.com/

Book:
Essentialism: The Disciplined Pursuit of Less
By Greg McKeown
http://gregmckeown.com/product/essentialism-the-disciplined-pursuit-of-less/

Book:
"How To Have That Difficult Conversation"
By Dr. Henry Cloud and Dr. John Townsend
On Amazon here. 

On Keeping His Family Relationships Strong:

– Being very intentional about scheduling time, and then protecting that time when it is scheduled.

– Be present when I'm "present." It has to be something that I value.

– It's hard for me to stay focused, so if I couldn't do it for long periods of time, I would schedule more short periods of time.

– With my kids, it was about just being there as much as possible.

"A problem that most ministers have is that they don't know how to rest. There's usually two extremes – they're either lazy or they don't know how to rest."

Find All of Bill's Books Here: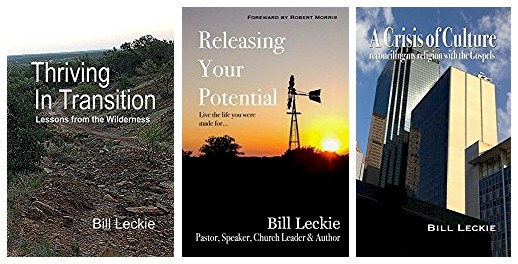 Join the conversation on this topic by commenting or leaving questions below. If you have a question that you'd like to have heard on the podcast, record your question, and upload it to Google Drive, Dropbox, Box or some other cloud based site and send the link to Hello@MinistryBackpack.com
Music Provided by "Artist Unknown" – https://artistunknown.bandcamp.com/