Podcast: Play in new window | Download
Subscribe: Apple Podcasts | Android | RSS
Ministry Backpack Podcast Episode 21 Show Notes:
Summary: In today's podcast I talk about an essential quality for Christian Leaders – Kindness
Resources and Links mentioned in this episode

:
2 Corinthians 6:6a,b
(But in everthing, as God's ministers, we commend ourselves) "By purity, by knowledge, by patience, by kindness…"
"Kindness" – "Useful kindness," demonstrating goodness, meeting needs in God's way
Kindness is more than just "niceness."
Kindness is not passive. It is a goodness that is being bestowed on and demonstrated to others.
Kindness involves administering God's grace to others.
Kindness reflects God's character:
Romans 2:4 – "Or do you presume on the riches of his kindness and forbearance and patience, not knowing that God's kindness is meant to lead you to repentance?" – ESV
Kindness is a fruit of the spirit. Galatians 5:22
This kind of kindness is distinctively necessary quality of Christian leaders.
"Kindness demonstrates spiritual maturity. It shows that you are "walking in the Spirit." As you are filled and empowered by God's Holy Spirit, you cannot help but be growing in kindness toward the people you lead."
When You Are Displaying "Kindness" In Your Ministry Leadership:
1. You Are Not Cruel.
You don't "Lord it over" those you lead.
Matthew 20:25-26
25 Jesus called them over and said, "You know that the rulers of the Gentiles lord it over them, and those in high positions act as tyrants over them. 26 It must not be like that among you. On the contrary, whoever wants to become great among you must be your servant." – CSB
1 Peter 5:3
"Not lording it over those entrusted to you, but being examples to the flock." – CSB
You are not like "King Iron Fist," Rehoboam: 1 Kings 12
2. You Actually Care About The People You Lead.
When you care about people the way that God cares about you, you begin to "shepherd" people with kindness.
3. You Show Respect To The People You Lead.
By showing respect to people that you lead, you demonstrate that God has plans and purposes in them.
* To be clear, displaying kindness in your ministry does not mean that you're not a pushover, who's "everybody's friend." Consider, for example,  a coach who is tough, but who is also kind.
"When, as Christian leaders, we demonstrate kindness, we're not demonstrating weakness – we're demonstrating goodness."
4. You Encourage The People You Lead.
Encouragement shows kindness that is displayed by building people up.
Final thoughts: Don't be a jerk. 🙂
"The kind of person you are flows into the kind of leader that you are."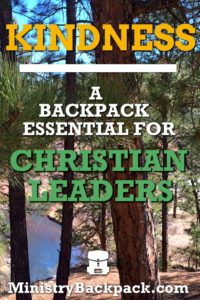 Join the conversation on this topic by commenting or leaving questions below. If you have a question that you'd like to have heard on the podcast, record your question, and upload it to Google Drive, Dropbox, Box or some other cloud based site and send the link to Hello@MinistryBackpack.com
Music Provided by "Artist Unknown" – https://artistunknown.bandcamp.com/
Previous episodes in this series:
#004 – A Backpack Essential For Christian Leaders: A Higher Standard
#008 – A Backpack Essential For Christian Leaders: Resilience
#011 – A Backpack Essential For Christian Leaders: Purity
#014 – A Backpack Essential For Christian Leaders: Understanding