Podcast: Play in new window | Download
Subscribe: Apple Podcasts | Android | RSS
Show Notes: Seven Questions With Pastor Brad Rud
Summary: In this episode, I interview my longtime friend and brother-in-law, Pastor Brad Rud. Brad and his wife, Laura, have a long history at the Crossing Church in Chugiak, Alaska. Laura grew up in Chugiak, and the Crossing is the first church Brad attended as a new Christian. They were also married and baptized in this church! After spending a number of years teaching school and one hitch as an Army Paratrooper, Brad was excited to be able to serve the Crossing family full-time.
Alaska is the perfect setting to combine his love for adventure with his passion for people. Brad is an avid hiker, mountain climber, and coffee drinker. Like many Alaskans he enjoys hunting and fishing . He also loves working with youth, and coaches high school basketball and volleyball.  Brad and I share the same birthday, and he was once a record holder in the Guinness Book of World Records for paddle boating down the Mississippi River.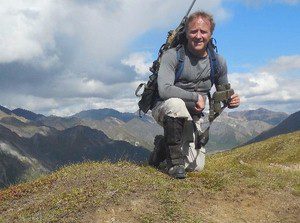 The Crossing
http://www.CrossingAK.com
Some Highlights and Links From Today's Show:
A Few Things That Brad would do differently:
Brad would be more cautious in listening to the Holy Spirit regarding hiring staff and appointing lay leaders in different positions in ministry.
He would listen to the "red flags" that the Holy Spirit promts in him when interviewing and hiring staff.
He now includes more team members in the hiring process, making it more of a collaborative effort.
Because Alaska, the least churched state in the union, doesn't have seminary students and a big pool of people seeking staff positions, he often hires staff from outside of the state. He always seeks to hire from within the church first, however.
Resources Brad Is Currently Using:
Book:
"They Found The Secret" by Raymond Edman
Book:
"The Spirit Filled Life" by John MacNeil
Book:
"Intercessor" by Rees Howell
Book:
"The Practice of the Presence of God" by Brother Lawrence [Free version here]
Book:
"How They Prayed Vol 3 Missionaries and Revival" by Edwin F Harvey
The Bible – "Speak Lord, your servant is listening…"
On Keeping His Family Relationships Strong:
– When the kids were younger, they made a big deal about holidays, birthdays and having dinner together every night.
– Brad and his wife pray together for their kids continuously.
–  He made an effort to be intentional about actually interacting with his kids when they were together, rather than just being in the same room with each other.
– He and his wife would have specific "date days" with each of their kids, emphasizing "quantity of time" and "quality time.
– Brad schedules some of his personal recreational activities "around the margins." For example, he and his mountain climbing buddies would schedule their climbs very early in the morning so that they could finish their climb, get to work on time, and not take time away from their families.
– Through their kids' college years, he regularly mailed photos of things they had done together as a family to his kids. He would write a letter of encouragement on the back of the photo.
Join the conversation on this topic by commenting or leaving questions below. If you have a question that you'd like to have heard on the podcast, record your question, and upload it to Google Drive, Dropbox, Box or some other cloud based site and send the link to Hello@MinistryBackpack.com
Music Provided by "Artist Unknown" – https://artistunknown.bandcamp.com/