Podcast: Play in new window | Download
Subscribe: Apple Podcasts | Android | RSS
Show Notes: Seven Questions With Pastor Brad Rud – Part 2
Summary: In this episode, I continue my interview with my longtime friend and brother-in-law, Pastor Brad Rud. Brad and his wife, Laura, have a long history at the Crossing Church in Chugiak, Alaska. Laura grew up in Chugiak, and the Crossing is the first church Brad attended as a new Christian. They were also married and baptized in this church! After spending a number of years teaching school and one hitch as an Army Paratrooper, Brad was excited to be able to serve the Crossing family full-time. Alaska is the perfect setting to combine his love for adventure with his passion for people. Brad is an avid hiker, mountain climber, and coffee drinker. Like many Alaskans he enjoys hunting and fishing . He also loves working with youth, and coaches high school basketball and volleyball.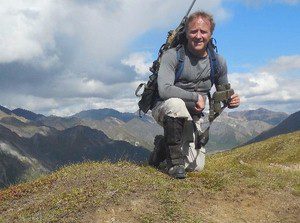 The Crossing
http://www.CrossingAK.com
Some Highlights and Links From Today's Show:
Brad's Basic Schedule:
"Ministry is life; life is ministry."
Mondays: Staff day. 45 minutes of staff prayer time/ share with each other who they shared Christ with and how things went in each ministry from the week before. Victories are shared. This is followed by focusing on the upcoming week.
Most of the Staff takes Friday and Saturday off. (Alaska is so huge, that it takes more time to do much recreationally. It's hard to do the things Alaskans do in just a day.)
Brad's schedule is flexible and relational – it varies from week to week.
Sundays –
Two services, 9 a.m. and 11 a.m.
* Brad usually arrives between 2 and 3 in the morning! He starts with a big mug of coffee, then for about an hour, he opens the Bible, asking the Holy Spirit to show him anything he's missed in the message. Then for another hour or so, he prays for lost people by name, his family, his staff, and multiple prayer requests from his prayer journal. he follows this prayer time with reading and a short nap.
Around 5:30 or 6:00 a.m., he goes back through his message notes, which are typed out as a "full manuscript."
(His sermon is "always more than his notes, but never less than.")
At 7 a.m., he prays with some pastors on staff, and at 8 a.m. he prays with his elders.
Brad's messages are available on their church's website:
http://www.CrossingAK.com
To younger pastors, Brad says:
"Pursue a holy life. Be in the world, but not of the world – not the other way around."
"As a leader of the flock, rather than asking, 'What am I free to do?' ask, 'What is helpful? What is beneficial?'"
"Those who are spiritually mature are always willing to limit their own freedom for the sake of the Gospel and for the sake of living a holy life."
"It's your genuine love for people that breaks down the walls, not the fact that you're exactly like all of the people that you are trying to reach."
Brad recommends that people in the Aurora, Colorado area to check out the possibility of serving at Compass Church (http://www.CompassDenver.com) 😀
Join the conversation on this topic by commenting or leaving questions below. If you have a question that you'd like to have heard on the podcast, record your question, and upload it to Google Drive, Dropbox, Box or some other cloud based site and send the link to Hello@MinistryBackpack.com
Music Provided by "Artist Unknown" – https://artistunknown.bandcamp.com/