Podcast: Play in new window | Download
Subscribe: Apple Podcasts | Android | RSS
Ministry Backpack Podcast Episode 24 Show Notes:
Summary: In today's podcast I talk about an essential quality for Christian Leaders – Sincere Love
Resources and Links mentioned in this episode:
2 Corinthians 6:6
"by purity, by knowledge, by patience, by kindness, by the Holy Spirit, by sincere love,"- CSB
"Sincere Love"
"Love" – Agape
"Sincere" – Unfeigned, Without Hypocrisy
The essential of "Kindness" bleeds into the essential of "Sincere Love.
"Here's the thing about sincerity – if you're faking it, you don't have it."
When You Display The Backpack Essential of "Sincere Love":
* You have a genuine compassion for people
When Paul says that he cares about the people in the churches that he writes to, he genuinely means it, and they know that he means it.
You don't see your church or group as a "faceless crowd."
"You're not just pretending to care about people. You're not just saying things from the stage that makes you 'sound' more loving and caring – you really love them. You really care about them."
* You have no hidden agenda based on personal ambition.
You don't use people to reach your goals.
You avoid the danger of applying the "Law of the 'Me, Too."
31 Refutably Refutable Laws of Lame Leadership, Law #23:
"If other organizations are participating in an event or emphasis, table your own mission, goals and plans. Jump in with them in order to have a 'presence.' Call it an opportunity."
* You are not a phony.
Romans 12:9
"Love must be without hypocrisy…." HCSB
"Love must be sincere…" NIV
"Don't just pretend to love others. Really love them…." NLT
"When you're fake, people pick up on it right away. They begin to roll their eyes when you begin to talk about your love for them and the people you say you're trying to reach, because they know that you're full of baloney."
"It's very easy to "fake it" in ministry. Having "Sincere Love" in ministry involves investing your life in the people you lead."
"What you actually do reveals the sincerity of what you say."
Suggestions For Developing The Essential of "Sincere Love":
1. Honest Prayer – Get alone with God and ask Him to give you genuine love for the people that you lead.
2. Gut Check – Examine your motives and goals in your ministry. Are you serving to build your own kingdom? Are you serving with envy or selfish ambition?
James 3:16
"For where envy and selfish ambition exist, there is disorder and every kind of evil." HCSB
3. "No Glory" Motivation Exercise – Serve, Give or Help someone as God leads, then do not tell anyone about it – Not even as a sermon illustration.
4. Be Full of the Right Thing – "Whatever you are full of, you will overflow wtih." So be overflowing with sincere love.
Seek to follow the example of Paul's Sincere Love for the churches:
Philippians 1:7-9
7 Indeed, it is right for me to think this way about all of you, because I have you in my heart,[a] and you are all partners with me in grace, both in my imprisonment and in the defense and confirmation of the gospel. 8 For God is my witness, how deeply I miss all of you with the affection of Christ Jesus. 9 And I pray this: that your love will keep on growing in knowledge and every kind of discernment," CSB
v. 9 "…that your love may abound more and more…" ESV
v. 9 "…that your love will overflow more and more…" NLT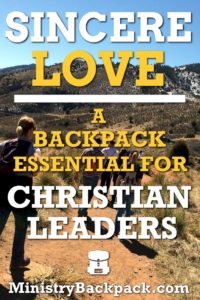 Join the conversation on this topic by commenting or leaving questions below. If you have a question that you'd like to have heard on the podcast, record your question, and upload it to Google Drive, Dropbox, Box or some other cloud based site and send the link to Hello@MinistryBackpack.com
Music Provided by "Artist Unknown" – https://artistunknown.bandcamp.com/
Previous episodes in this series:
#004 – A Backpack Essential For Christian Leaders: A Higher Standard
#008 – A Backpack Essential For Christian Leaders: Resilience
#011 – A Backpack Essential For Christian Leaders: Purity
#014 – A Backpack Essential For Christian Leaders: Understanding
#018 – A Backpack Essential For Christian Leaders: Patience